Felucca on the Nile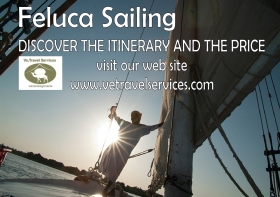 The felucca is the green alternative to the classic cruise on the Nile. Ideal for travelers who want to enjoy the natural contact with the waters of the sacred river, day and night.

DESCRIPTION:
The felucca is the typical wooden Nubian sailing boat still used for fishing. The boat is very large and can hold up to 10 people excluding the crew. In winter, during the night, the felucca is covered with curtains in order to repair the guests from mosquitoes or insects of the river. You will sleep in sleeping bags (guests have to bring their owns with them) or on mattresses and blankets provided by the crew. For daily cleaning and showers, each traveler will have access to about 20 liters of natural water and as a toilette you will have dunes and trees at your disposal... Therefore a good adaptability is required for this trip.
NAVIGATION:
The navigation can last more or less, depending on the needs of each traveler. You can sail from Luxor to Aswan in a tour of five nights, or from Esna (50 km from Luxor) to Aswan in 3 nights. While slowly sailing, driven by the wind, there will be enough time to relax and take pictures. Baths are also possible in the river in the rural and still virgin areas.
Besides the classic archaeological monuments of Luxor, Aswan, Edfu and Komombo, we will stop in small fishing villages and sites away from mass tourism but of high historical value, such as the Temple at Gebel Selsela. It is also possible to combine the navigation on the Nile with stays in Cairo, Luxor, Aswan and Abu Simbel with ad hoc programs.
MEALS:
Meals are cooked on the spot directly by the crew on a bonfire.
We usually eat on the beach or at the foot of the temples. The menus range from grilled meat or chicken to rice and vegetables, cheeses, eggs, salads, typical sauces, etc.

If you are looking for a trip away from the traditional circuits and that also gives you the thrill of the sailing, the Felucca is without any doubt the ideal solution.
Type: Private Tour
Trip Runs: Everyday
Pick-up : Cairo - Luxor
Return to: Cairo - Luxor
Duration: 8Days/7Nights
DISCOVER THE ITINERARY AND THE PRICE
For info or reservation contact us here