Home
» Traveler Testimonials
Traveler Testimonials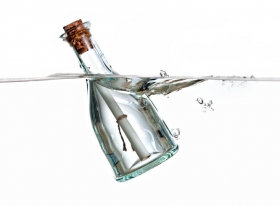 This space is dedicated to You.
To the ones who have traveled with us and to the ones who have the intention to do so.
Diaries, pictures and emotions of our travelers.
Been traveling with us? Send us your own testimonial or feedback or write one on Tripadvisor!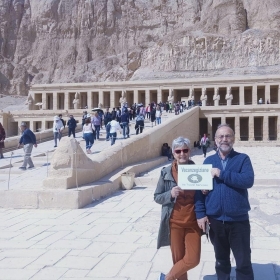 We contacted Jasmine of Egyptian Holidays and within a couple of days we received a quote with a detailed description of the trip we requested. From this moment on, she has always been present to answer all our questions and doubts in a timely and professional manner. We booked with Egyptian Holidays a 4-night Nile cruise from Luxor to Aswan and a 3-night cruise on Lake Nasser with a visit to the temple of Abu Simbel. What to say? the guide Emad has always been present but with discretion. Nothing to complain about its preparation regarding history and archeology: each place was explained in great detail in excellent Italian. The places we visited were breathtaking, and sailing on the Nile relaxing and extremely pleasant. Arrived in Abu Simbel we decided to attend the lights and sounds show: unforgettable. The Omar el Khayyam ship on Lake Nasser is a 5-star hotel in all respects: spacious cabin, excellent cleaning, excellent food. All always accompanied by the super guide Emad. Ultimately an experience to recommend to everyone: both because the places we visited are magical, and because Egyptian Holidays organized everything perfectly and we have nothing else to do but enjoy the trip.
Amelia and Carlo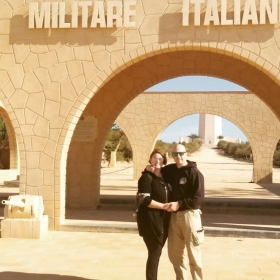 We left early and headed to El Alamein with a comfortable car. The destination is undoubtedly a point of historical interest therefore exciting and suggestive. You can visit the German war memorial and then get to our Italian. Really moving. The visit continues to the military museum and then ends at the Commonwealth cemetery. Ashraf our guide in Italian has proved very prepared and professional. With his kindness and availability he accompanied us on a beautiful day. Thanks also to the driver and Jasmine for organizing everything. Highly recommended. "YALLA YALLA"
Silvia and the family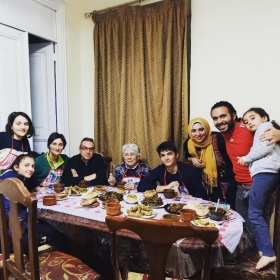 A week of full immersion in Egyptian society and history. From the Siwa oasis, to the Sahara and El-Alamein dunes, from the Egyptian Museum to Memphis and Giza, with moments of sharing with local families. Enthusiastic and interested kids (despite a cold and rainy January ..) Immensely grateful to Ashraf for her competence, attention and courtesy. We hope to return soon, inshallah.
Ilaria and the group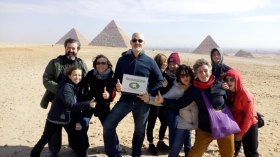 We spent a 8-day-vacation together with our personal guide Ayman. The experience was beautiful and our guide managed us in a very nice and professional way. We could get a "real" feeling of Egyptian society and its beauties!