Home
» Traveler Testimonials
Traveler Testimonials
"..Ve travel services hit the mark" Marc and the group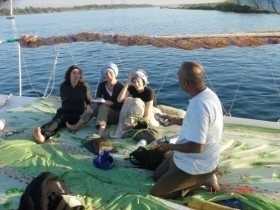 Last March, on the occasion of my birthday, I was looking for a vacation with three friends (frankly said, a real trip, a highly personalized one, out of the major tourist flows that usually "overwhelm" Egypt...).

After several suggestions found on the internet, we stumbled on Ve Travel services. Jasmine was in fact able to create for us a tailor-made holiday, full of adventure, history and entertainment. All at a truly enviable cost, especially when compared to all other Italian offers...

In ten days my friends and I were able to visit Cairo, take the famous wagon-lit across all Egypt from north to south, see Abu Simbel, the Aswan Dam and spend four wonderful days sailing on Nile River. This was certainly the best moment of the whole trip: for four days on a felucca we have sailed on the beautiful Nile River, taking a picnic along the shore, stopping to see the many sites along the route (Edfu in the evening at sunset is a real show),
we ate and drank with our crew and the guide, who was with us during the whole trip.

Briefly said, Ve travel services hit the mark, giving us not only the Egypt that we were all hoping to see, but that bit of adventure that is now hard to find in organized tours...
Marc and the group
"..a special trip.."
I wanted a special trip in the land of the Pharaohs, far from the organizations of the mass tourism.
I had already visited Egypt once: a cruise on the Nile plus a visit to Sharm (in '99) with Alpitour. The trip was positive, except for the fact that we had to share it with 38 people! For this reason, and for the special occasion of our honeymoon, we wanted something different, more intimate but at the same time spectacular. A journey only for us, in fact. Browsing online I found several reviews about Ve travel services and I thought we should try... and thanks God we did!
We did a fully personalized tour, with guide and private car, among the beauties of Cairo, Alexandria and the crystal sea of Ain el Sokhna. But let's list things in order.

CAIRO: We stayed at the Grand Pyramids, a 5 stars hotel, few steps from the Giza Plain. Great room and services. The environment is clean and the cuisine is international, really wonderful. The show of sounds and lights in Giza is unforgettable as much as the dinner with view to the Citadel from El Azaar Park.


ALEXANDRIA: Beautiful, not as much as Cairo, but a nice city. Seaport overlooking the Mediterranean Sea. Here we stayed at Sheraton Montazah, excellent hotel just on the Royal Gardens. They are amazing. Alexandria's Library is wonderful. We had luck, the Royal Jewels Museum had just reopened before our trip, so we didn't miss it!
AIN EL SOKHNA: Caribbean-beach-like resort, only white sand and crystal sea. Like a Red Sea without coral reef. Stella di Mare Grand Hotel, a 5 stars hotel, also wonderful. Rooms are spacious and very well furnished. Here we spent a full week-end of relax on the beach. Without any doubt, a special trip for the most important occasion of my life.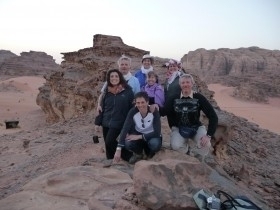 We have just returned (25 March 2011) from a tour to Jordan.
We were 7 friends looking for a different holiday, for something different from the usual packages that are generally offered by tour operators – where you have to follow big groups with one only guide on a bus and you can hardly hear him/her 'cause you ended up sitting in the last row.
Or you travel with a group that can't cope with the standard pace and in the end you can only do everything by halves. We solved the problem thanks to some of us who couldn't stick to the dates proposed by the standard agencies.
Therefore, a little by chance and a little out of necessity, we got in touch with vacanzegiziane.com.
Well, we had a wonderful time. They kept all their promises with professionalism and capability, meeting all our demands. Our experience was fully positive. Enjoy your holiday!
Cinzia and the group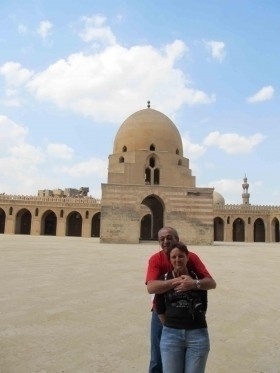 A wonderful trip, beyond any expectation – perfect organization, with no accidents despite the particular time of the trip, taken just after the Egyptian revolution.
Remarkable: the availability, kindness and extreme preparation of the guides, who illustrated and suggested to us the best during our visits to the various sites.
Wonderful climate, unforgettable sites - the agency is absolutely advisable for its reliability, expertise and for its prices.
AN EXPERIENCE THAT YOU HAVE ABSOLUTELY TO DO!

Riccardo and Sandra Palatresi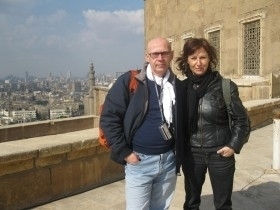 It was to us a great experience, a positive one with no doubts.
A special thanks to our guide Shaban and to our driver Aladino.
Thanks also to Ve Travel services that made us discover places which are not accessible to the mass tourism.
We are 100% sure that we will do our next trip in the land of the Pharaohs with you, looking for other attractive places.
Maria Laura and the group