Home
» Traveler Testimonials
Traveler Testimonials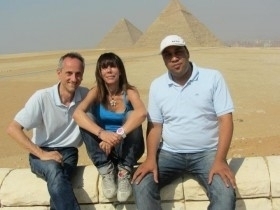 Once we decided that our next holiday would be Egypt we contacted "Vacanzegiziane" found casually on the internet. The impression was excellent immediately, courtesy, professionalism and kindness are the cornerstones of our holiday. Cairo allowed us to discover a fascinating, magical and mysterious city thanks to our guide Ayman who, during the holidays, had made available to us! Ayman is a very cultured boy, graduated in Egyptology and with an excellent command of Italian who has helped to make us known not only the natural and archaeological beauties of this land but has introduced us to a wonderful warm hospitable kind people who I hope can finally find the serenity it deserves. For us it will certainly be the first of many trips to this wonderful land. A special thanks to Jasmine, always punctual in responses and very good in organizing the tour and a special thanks to Ayman and our driver in the hope of seeing you again soon!
Marina, Paolo, Federica
Cairo... unknown, exotic and fascinating destination ... full of contradictions and history, full of culture and life... Destination sacrificed to the cult of the temples and often not given all attention it would deserve... This could have happened for me too ... But I wanted to invest my attention in it... that was the only thing I had available, not having the possibility to count on a high budget for my trip... Starting from some friends' experience, I wanted to venture out in search of local contacts that could guarantee to me a tourist guide and accompany me in the visit of the city... I had to stay a few days but I wanted them to be intense... Some stories of people who had been there had scared me a little... Thanks God, personal experience gave me a confirmation: indeed, never as in this case, unfamiliarity with the language is combined with the unwillingness to be able to grasp the true nature of things. I have just returned from a memorable trip... and not because it was an odyssey... but because it represented to me a dive into civilization... the true one... made of history, culture and also diversity.
I had the tickets, I had booked the hotel. I just had to find someone who could be my local guide. A little bit of research, some e-mails, opinion exchanges, not much bargaining... and I finally found everything .... with skepticism and a little of fear, but I seemed to have found a good proposal at a good price. A guide who speaks Italian, with an air conditioned van and a driver available for most of the day... I suggested a tour program. It was confirmed and even enriched by other interesting places .... what did I want more?
I had just to leave. Once we had overcome the hardships connected with the flight from Italy (Alitalia. .. that is real third world) we arrived at a deserted airport, late at night with no one there waiting for us (the only downside of the trip... the proposal did not include transfers to and from the airport). We found a solution... but quite a cheap one, starting with a lot of prejudice and lack of confidence, at first doubting the fact that we had already started the journey with a false step. But we were wrong about that. Everything was alright, we arrived at the hotel, quiet, beautiful rooms. But it was late at night. In the morning we would begin our trek and... the guide was on time, standing in the hall at 10:00 with our names on a sign. We introduced ourselves and met the smiling and jovial Ayman welcoming us... and harmony was already there! He even speaks our language better than many of our fellows, and he knows of it not only inflections and typical expressions but also customs and circumstances... Yes, a great impression. He led us to the bus and here we met the friendly and nice Mohamed... He smiles and we understand that he is ready to do whatever we want... Just a pity that he doesn't speak much and he does not speak our language, unlike Ayman, a volcano of sympathy. Therefore Mohamed stays out of our speeches, focusing on the chaotic traffic of the city, which requires twenty eyes and surely not just two.
First stop is the Citadel. There we understand that our guide is not only nice but also well prepared... we observe each other and understand that it will be a great trip for both parties... Perhaps the experience of the guides when working with groups is one of high depersonalization... but with him now is like being with a friend... Beautiful places. The second stop is the Egyptian Museum... magnificent repertoire. But what a mess! If you do not have a guide you do not know what you are looking at. It is a kind of storehouse. Ali Baba's cave full of treasures stored ​​in bulk... He chooses for us what to watch, following an historic route... When we go out, the cue at the entrance is endless, and we deeply appreciate the fact that our guide, unlike the others, follows us and takes care of us... The ones who the night before looked at us at the airport as we were some kind of homeless, now were envious and... it was right like this. Then we are off to the island of Roda and the Nilometer... but first, we are hungry! It's late... what shall we do? We explain that we just need something small to take away, and he leads us to a place where they make a subspecies of the local fast food... a dainty for just two cents... We are very tired, but satisfied.
Planned for the day after, a hard trip is waiting for us and we deserve some rest. In the hotel we fall asleep straight away. But in the same evening we can enjoy the beauty of the surroundings of the hotel, the beautiful Zamalek. It's a dream, guys, we are in Cairo! But where the heck were those fools who spoke so badly about it?
The next day, early wake up call. Abundant breakfast and departure for the archaeological Saqquara. And a visit inside a mastaba... complete with a visit to the decorated tomb. The ones of the pyramids are not like this. We can visit this one freely and full of wonder. Ayman knows it all and he's love by everyone .... could we be luckier? The tour continues with an unscheduled visit. We go first to the pyramids of Dashur, the red and the diamond ones, before making a stop in Memphis (the Sphinx and the magnificent giant) and then we head to Giza... We were prepared to see the city just behind the spectacle of the Pyramids, the view is not disappointing ... millennia of history are set in front of them... and you can feel them all with their magnetism and their undeniable beauty.
You have to pay for everything, but with Ayman we manage to bypass the long cue of tourists waiting to get their ticket. The day is misty and cloudy, it rains a little, this helps us to stand the heat. We visit the Solar Boat and the Sphinx… what places! What emotions! For lunch we go to a nearby restaurant. It's a place that works in agreement with some tour operators. And we get the special treatment of the tourist guides! We pay really little for the quantity of what we eat, a really delicious buffet meal. But it will still not be the best meal of our stay. Sated and satisfied, we drive back to our hotel. Just the time to rest a little and we are already around in Gezira, along the Nile... Breathtaking views of an enchanted city... light years away from that hovel that many people still insist on painting and that represents only a part, not even the most important part, of a city with many faces.
The day after it's the turn of the Coptic Cairo – completely different from the Egyptian museum: less things but better organized. The Hanging Church, St. George, St. Sergius, and then the ghetto, the synagogue, the oldest mosques in the city. The past piles up and memories interweave... it is a pervading and all-encompassing experience that hardly makes it all so clear. We anticipate a visit to the bazaar of Khan el-Kalili, not before he have toured in what all tour-leaders consider as the only mosque non open to tourists. Inside there you breathe a mystical atmosphere. It's the goal of a pilgrimage, a mausoleum that makes us realize that holiness has no boundaries.
We go on with the sightseeing as planned, even though the program now is just an indication... The famous bar of the mirrors is the most disappointing thing. More a name than a site... But also the junk-market is disappointing: it has nothing of the colors and sounds we were expecting, but just an annoying constant call from those salesmen who do not sell anything that probably does not come from China... We rush to finish our tour and we see our countrymen who seem to enjoy chasing meaningless items... Lunch is always a new surprise... a place with a buffet, but this time even of a higher quality... and with prices which in Italy does not even allow us to get a single breakfast... Even in self-service places, chefs prove their well-deserved reputation. The visit ends with our good guides (our "heroes") leaving us in front of the Fish Garden, a sort of fairy garden with aquariums and artificial caves, built in 1800. So bad, it's about to close. But the smart Egyptians don't miss the change to do a favor (they are anyway always kind) and also to earn something extra (if being kind makes you earn something, even better): the guardian sends everybody out, but for a small tip he doesn't only let us in, but he even opens for us a small depandance where fishes are kept, waiting for the renovation of the pools. It's an enchanting place! Kept in very good conditions, you wouldn't say you are in Cairo: everything is so green! And Egyptians are such good gardeners - is there something they cannot do? Memorable visit, wonderful photos. The next day, the driver punctually picks us up from the hotel and takes us early in the morning to our trusted guide... Mosque of Ibn Tulun, House-Museum of Gary Anderson, Mosque-Madrasa (school) of Sultan Hassan, Mosque El Rifai then fast drive by car to the City of the Dead. This is the plan. The sky is gray, and all of a sudden we are right in the middle of a beautiful sand storm... Now we understand that patina that envelops everything and makes it all seem like a post-nuclear landscape... It is so fine and invasive that at the end of the day I shall find some traces of it in my pants ... oh yes... but I swear, I did not put off my pants in front of everybody to check!
The visit to the Madrasa is exciting. Everything is mega and maxi... magnificent. It seems to be in one of our churches... now I understand the meaning and the difference of those places. They are places where you can pray, not merely places of worship... and inside there you breathe peace and respect... for everything and everyone. The visit to the museum-house of the English officer is very special. A respectable bunch of antiques and Petrella stocked with taste and full of that subtle ambiguity that characterizes the name of the owner. Our guided tour certainly helps us to understand, while a group of local students seem more eager to leave than to see things that are like a mirage to us, and not daily routine. Unfortunately, you can't stay long in the City of the Dead, the area was closed for security reasons, but it was enough to understand what it was like. We'll get refreshed by a meal in a typical restaurant, where we eat a beautiful soup and an exquisite cake. Of course, again for few pounds and with top satisfaction. This place is well known only by locals... thanks Ayman for letting us discover it! Then we decide to visit the zoo. From the zoo you can understand many things of a city... Certainly the day is not ideal to visit a park: everything has a yellowish color faded from the desert storm... but we have an hour available. The visit was worth it. The park is very nice and kept quite well... not so is the fauna, virtually non-existent, or at least invisible... But it's closure time, better to leave on time before somebody else "gives it a try" asking for money while allowing us to stay, like last time at the Fish Garden.
On the fifth day in the program there is the Mosque of al-Mu'ayyad and the historical monumental El Moez Street, seat of ancient Islamic schools, public fountains, and… flies. That was one of the most intense days: the sand storm was just a memory: at night a cool wind wiped away everything and restored in the city brightness and colors. It couldn't be a better day than this to enjoy all that beauty. On that street you can find something different at every step. Always something new adds up to the prospective, it's enchanting. We hope that, when added to the mass tourist tours, it will not lose its fascinlation, most of all granted by the locals and Hookah dealers, present in a huge number. Just a note: our guide gives us a drink, he recommends a mango juice... well, forget anything here that bears that name. The tour is enriched by an unforgettable pearl: the house of Al-Suhaymi, that nice to supplant the grotesque house of Aderson Gayer. And then finally, between a mosque and a minaret... after admiring a breathtaking view from one of the towers of Bab Zweila, beautiful city door, we enter a market that makes us experience the real thrill of a Cairo markets... those smells! What colors, what sounds, what spell! We are in seventh heaven... and we move among the people as if we were part of them ... there are no tourists here, but that doesn't make out of us an object of curiosity or attention ... ah ... how silly we are, we Western people... The day ends with an excellent lunch at a restaurant well known by the tourist guides as Felfela... They recommend us some special dishes, thanks to our guide. But here the place alone deserves a visit: it seems to be in a Disney movie... A visit to the Cairo Tower makes us digest it all... and makes us realize how immense and vast it all is, and how small and insignificant we are. It's such a shame that tomorrow all this has to end.
On the sixth day we left the hotel... we said goodbye, with the greetings of the friendly Sales Manager personally... and we get to the next stop we agreed on: the Pharaonic Village. The snobbish tourist guides refer about it as an attraction for children. Maybe a little less snobbism and some more initiative could make them change their mind. We agree on a package tour that includes lunch and mini-cruise on the Nile. The great thing is that we start so early that everything takes place just for us! Can you imagine how it's like living inside Disnayland? Well... if you put it in the frame of ancient Egypt, there we are! It's exciting, just like I read in the guides and websites. A boat takes you among the islands where the ancient history of this land and of these people was rebuilt. Then the visit continues inside reconstructed houses and museums, thematic museums... and a perfect reconstruction of the Tomb of Tutankhamen. Something that would make all our Disneylands turn pale.
Time is running out and the cruise on the Nile will be over in half an hour. Just a pity. I would have liked to buy some beautiful papyrus, here they are of high quality and very cheap. Well, next time. We are far from the airport and we have to go. From the car we spot many more things that we couldn't see before. So we start with the comparisons with our Rom. But we can't leave without a visit to the Baron's house... damn... here it was, just go back... no, you cannot miss it... despite the fact that it is closed for restoration and surrounded by an iron railing ... It's a mixture of the Sagrada Familia Cathedral and a Buddhist temple. We hope it will soon be open. The copy of the Colossus of Ramses tells us that the airport is not far. And that our experience is about to run out... but not its memory and the joy associated with it. Certain things remain in the heart for a long time... thanks Ayman, thanks Mohamed, thanks Jasmine... thanks Cairo, thanks Egypt... and see you soon.


Roberto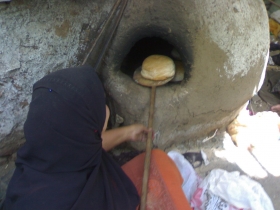 Lucrezia's travel diary has been published in the Italian Magazine "Turisti per caso"
Egypt. A country so devastated by tourism, but still so fascinating. We have already visited it three times (Sharm, cruise on the Nile + Cairo, Hurghada), although after the journey I'm about to tell you, I realize that all we had seen in the past was less than a bit of the real Egypt.

We leave on April 8th, Egypt Air flight from Rome Fiumicino. Destination Cairo. The route we chose this year is quite alternative but extremely instructive, as the local operator told us in the beginning when we booked with vacanzegiziane.com, RESPONSIBLE tourism. There is much talking about this new way of travelling but sincerely we had never experienced it before.
Our tour starts from Cairo, through a REAL village in southern Egypt, in the province of Luxor, a short cruise in a Nubian felucca and the stay in Aswan. Intense route, but believe me, it is worth it.

We spend a night in Cairo, in a small hotel downtown, The Cosmopolitan, in Renaissance style. Then we spend a day of typical excursions: Egyptian Museum, the three pyramids, the Sphinx, the market where the last attack occurred and an extra: a beautiful walk on a street full of historical remains: Elmoez Street. A street downtown, well-maintained, where a special lighting makes the whole street evocative. In the evening we leave by train, we stay in sleeping wagons, destination Nagah Ammedi, a district of Luxor.
We arrive in the morning shortly after dawn, at about 6.30. The trip was comfortable, we had occupied 3 cabins (we were 5 people). Each cabin has a bunk bed. Then, we arrive in town, of course accompanied by our faithful guide. Here we find several men dressed in the traditional long tunics, waiting for us. They are the owners of the house where we will stay for three nights. Yes, you read right. We stayed in the village on the Nile, just in a local house, inhabited by locals. We cordially say hi to us and drive us to the old village in old Peugeot 8 cars. The village seems fallen out of the "Quark" documentaries or a reconstruction of the ancient Egypt. We seem to jump 5,000 years back in time. Cows and oxen draw irrigation water mills, houses are made of mud or clay, the vegetation is gorgeous. I mean, we were ravished and excited! Telling in detail the four days spent there would be very long, but there is something I want to share. We stayed in a house of mud, clean, with wooden beds and laundered, fresh and bright bed linen. For four days we tasted the dishes of these people, sharing their smiles that spoke more than 1,000 words, their days and, as we could, making ourselves useful... A part of our journey's expenses was donated to two local charities who work daily to improve and develop the local living conditions, especially of children. With the latter, we spent a long time, playing, coloring, and we also participated in a school lesson. I swear, everything was beautiful and profound. On departure day, the women prepared for us at dawn the traditional sun-bread, whose remains were found even in pharaonic tombs.
They use a clay oven, I think from an ancient tradition. This bread is made at dawn and divided into loaves, left rising in the sun. Hence the name of the sun-bread. After hours of rising (2 or 3 hours) they start with the cooking in a clay oven. Once cooked, the bread is a bit like our small cottage loaves, although, I must tell you the truth, we have never eaten anything that good. After lunch, between hugs and moist eyes, we are forced to leave. During the trip we remain silent. Everyone is absorbed in the memories of those beautiful days and the sweetness of the embraces of sincere affection of women and children.
We arrive in Luxor. And straight away we feel assaulted by the smell of tourism. Now we knew well what was the real Egyptian people and believe me, everything for us had a different look. Let's start with a visit to the Temples of Karnak and Luxor. We listen to the explanations. We are diverted, a bit because we had already heard them and a bit because our minds were still in the village on the Nile. They take us to the hotel on the west bank of Luxor, a beautiful small island. We decide to dine at the hotel. We did not want to go for walks in the markets or carriage rides. We stay at the hotel, in the garden, looking with tears in our eyes at the photos of the children, taken during those wonderful days.
The next day we visit The Kings Valley, the Madinet Habu Temple and the Colossi of Memnon. Fast lunch and flight to Aswan. We arrive and we embark on a felucca, a sailboat made ​​of wood, large enough, where as planned we stay 2 nights. The atmosphere and the crew of the felucca are a sound medicine for our melancholy. We spend the first night on the beach, dancing around the bonfire to the sound of the tambourine, eating grilled chicken and smoking a very good shisha (hookah with a pipe) with apple flavored tobacco. The atmosphere is beautiful. Immersed in the nature, we realize how much time we lost in the past with those standard trips that had hidden to us all this beauty and purity. We fall asleep exhausted in our sleeping bags on the felucca.
The next day, quick navigation and excursions: the Filae Temple, the High Dam and the Cathedral of Aswan. Back on board for lunch we enjoy a plate of rice and vegetables cooked on the felucca, sailing the Nile. It is very hot and so we ask if it's possible to stop a bit in the shade. As easy as that! And here we are under a tree, we don't know well where, drinking a mint tea sitting on the ground. Then we sail on. In the evening at dinner we are guests of a Nubian family, in the Nubian Village. This village is very different from the ones we've visited on the Nile. It is more colorful and you can see that it has undergone a slight but inevitable influence from the tourism. We dine outdoors, we chat with gestures with children and women, we smoke the hookah and we leave again with our felucca. It's our last evening. We don't want to fall asleep. The guys take us on a beautiful beach, put out the bonfire and we spend a wonderful evening. Here we listen (with the translation of the guide) to the story of a bit of their lives, their dreams, their families and we realize how futile our problems often are. If only we could be content...
The morning after Abu Simbel is waiting for us. We leave at around 11, and say goodbye to all these guys with tears in our eyes, begging them to stay as they are, perfect as they are.
We leave heading to Abu Simbel, and again this visit too doesn't have our full attention. Our hearts and our minds are with all the wonderful people who made ​​our trip unique and special.

In the evening we leave by train to Cairo. Usual sleeping wagons. The thrill of the journey is lost. In its place, melancholy and the wish not to leave.
In the morning we arrive in Cairo and they take us to the airport. During the drive from the train station to the airport we called the Egyptian Head of our travel agency. She wanted to say bye and to know how the trip went. Believe me, we did not have words to thank her. She had "pushed" us to make this trip, as we contacted her for an opinion, asking for a route which would allow us to better know Egypt. What could we say? "Many many thanks... thanks... we will never forget you!"
We arrive at the airport and it's time to leave. And it's also time to say goodbye to our guide. He accompanied us from the first day until the end, tireless, always present and available. Thanks to him, his people and his agency, Egypt is now to us a different country, more human and real. The tears that we had kept waving and hugging all the people we met were finally coming out with him. And he, with tears in his eyes, thanked us for being able to appreciate their culture and their reality.
We arrive in Rome, and everything here seems so empty, superficial and fast... But now, I wonder, isn't this speed killing us slowly?
Lucrezia
"..Ve travel services hit the mark" Marc and the group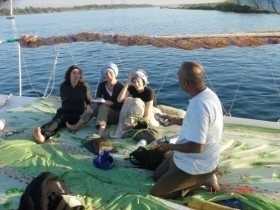 Last March, on the occasion of my birthday, I was looking for a vacation with three friends (frankly said, a real trip, a highly personalized one, out of the major tourist flows that usually "overwhelm" Egypt...).

After several suggestions found on the internet, we stumbled on Ve Travel services. Jasmine was in fact able to create for us a tailor-made holiday, full of adventure, history and entertainment. All at a truly enviable cost, especially when compared to all other Italian offers...

In ten days my friends and I were able to visit Cairo, take the famous wagon-lit across all Egypt from north to south, see Abu Simbel, the Aswan Dam and spend four wonderful days sailing on Nile River. This was certainly the best moment of the whole trip: for four days on a felucca we have sailed on the beautiful Nile River, taking a picnic along the shore, stopping to see the many sites along the route (Edfu in the evening at sunset is a real show),
we ate and drank with our crew and the guide, who was with us during the whole trip.

Briefly said, Ve travel services hit the mark, giving us not only the Egypt that we were all hoping to see, but that bit of adventure that is now hard to find in organized tours...
Marc and the group
"..a special trip.."
I wanted a special trip in the land of the Pharaohs, far from the organizations of the mass tourism.
I had already visited Egypt once: a cruise on the Nile plus a visit to Sharm (in '99) with Alpitour. The trip was positive, except for the fact that we had to share it with 38 people! For this reason, and for the special occasion of our honeymoon, we wanted something different, more intimate but at the same time spectacular. A journey only for us, in fact. Browsing online I found several reviews about Ve travel services and I thought we should try... and thanks God we did!
We did a fully personalized tour, with guide and private car, among the beauties of Cairo, Alexandria and the crystal sea of Ain el Sokhna. But let's list things in order.

CAIRO: We stayed at the Grand Pyramids, a 5 stars hotel, few steps from the Giza Plain. Great room and services. The environment is clean and the cuisine is international, really wonderful. The show of sounds and lights in Giza is unforgettable as much as the dinner with view to the Citadel from El Azaar Park.


ALEXANDRIA: Beautiful, not as much as Cairo, but a nice city. Seaport overlooking the Mediterranean Sea. Here we stayed at Sheraton Montazah, excellent hotel just on the Royal Gardens. They are amazing. Alexandria's Library is wonderful. We had luck, the Royal Jewels Museum had just reopened before our trip, so we didn't miss it!
AIN EL SOKHNA: Caribbean-beach-like resort, only white sand and crystal sea. Like a Red Sea without coral reef. Stella di Mare Grand Hotel, a 5 stars hotel, also wonderful. Rooms are spacious and very well furnished. Here we spent a full week-end of relax on the beach. Without any doubt, a special trip for the most important occasion of my life.