Home
» Traveler Testimonials
Traveler Testimonials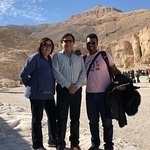 We were in the most important places along the Nile along with our guide Hassaan Gadalla very helpful in organizing excursions according to our needs. Clear and prepared, it was a pleasure to travel with him. Bellisima ship (Emilio Cruise) with very good and clean food. Kind staff. It is certainly a very beautiful journey that allows you to relive the history of the Pharaohs in a very pleasant environment.
Maria and the family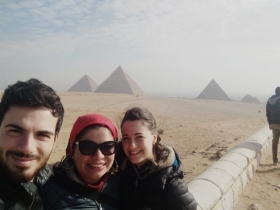 We are an Italian couple, from Parma Elena and Daniele We spent two days in Cairo and then flew to Aswan. From there we boarded the ship to go down the Nile to Luxor. The guides entrusted to us were fantastic from the first to the last. Competent, and friendly in all situations; thanks to them the journey was unforgettable. They all speak fluent Italian. Starting from Ayman who picked us up from Cairo airport. Dear, he accompanied us for the first day. On the second day we visited Giza and the Cairo museum together with Doaa, very nice and sincere in recommending what was best for us ... From the third day on, on the cruise we were with Hassaan Gadallah, also very kind and he recommended us some extra excursions compared to the program, which were a wonderful thing. We want to do everything possible, rest is not a prerogative of our travels, and so we went at dawn to see the Abu Simbel temple, an unforgettable experience; and then two days later, always at dawn we made a flight with the hot air balloon over the sky of Luxor, seeing the valley of the kings from above at sunrise. Hassaan has always been at our side and has told us a lot of curiosities, even in our free time we knew something more about the Egyptians as a people, in addition to ancient history, told us exemplary during the visit of the various archaeological sites. In Aswan: Phiel Temple, Aswan Great Dam, Abu Simbel In Esna: Edfu Temple In Luxor: Valley of the Kings, Karnak Temple, Hot Air Balloon Flight I would say that in 6 days we could not ask for better !!! Thanks VE TRAVEL SERVICES !!!! Thanks Ayman, Doaa, Hassaan, and let's not forget Jasmine that from the Agency has always been available to give us the info we asked for !!!
Daniele and Elena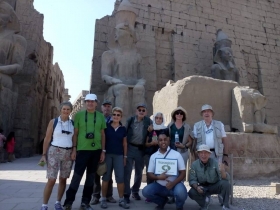 We just returned from our interesting trip to Egypt organized by Jasmine, very good, attentive to every request, she organized a personalized 10-day tour in classical Egypt with navigation on the Nile, a very well-trained Egyptologist Ayman accompanied us, but also a history connoisseur , nice and ironic, we became friends. For my husband's birthday during the tour, they surprised us with cake and a small party. Trip and organization was fantastic, we could not expect more. I highly recommend this tour operator.
Carla and the group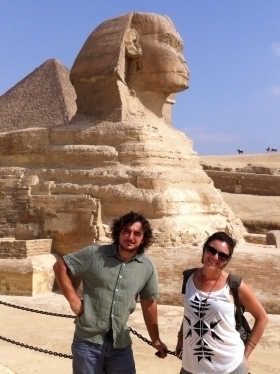 hi, we have just returned from a 3 day tour in cairo, we organized everything with jasmine of "ve travel services" .... at the beginning I was a little afraid to go for the news circulating on tv, instead everything went very well, there is no kind of danger as our news alerts us !!!! Our DOAA guide was fantastic, speaks Italian very well, is smiling and gives many good tips on shopping and places to eat! he followed us for all 3 days of stay, we did the tour of the pyramids, the sphinxes. the stepped pyramid, the museum, memphi, we had lunch on a fantastic Egyptian farm, then he organized a mini cruise on the Nile with dinner and a show, we saw the Coptic and Islamic Cairo, the famous market, the Egyptian museum ... ... in short, 3 infinite and fantastic days. I hope to organize another tour with this agency .... maybe in jordan!
Alex and Letizia
"..tour in egypt!" Fabio and the group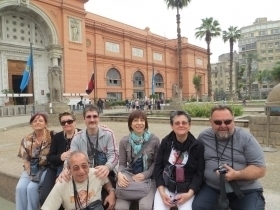 We returned yesterday from Egypt, a place already visited but beautiful, Jasmine, whom we met personally, Ayman who welcomed us and unfortunately accompanied us to the airport, Abdul who took us to visit Alexandria, Doaa (Dudu) who made us visit Cairo and surroundings and Emad who accompanied us from Luxor to Aswan on a cruise on the Nile and to visit Abu Simbel, proved to be competent, prepared and professional, we had no tourist guides, but old friends whom we hadn't seen for a long time and took us to see their land, poor but dignifiedly beautiful. We have been HONORED to have known them, when we return, we will expressly ask for them. Thank you for the unforgettable holiday you have given us!
Fabio and the group