Home
» Traveler Testimonials
Traveler Testimonials
"..Cairo and Nile cruise from Luxor to Aswan.." Fabiana and the group
Very positive experience. We visited fascinating places accompanied by two prepared guides who told us many interesting things. We had a great time. To recommend. A special note for Ashraf's great courtesy.
Fabiana and the group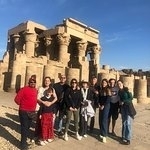 We chose Egypt for our honeymoon and for the first time we delegated everything to an agency. Great fear that things would not go as we would have expected and since it was Egypt, it was no small risk. Instead, the result was fantastic. Aside from the Mercure in Cairo which has an average and in any case more than acceptable standard, the other hotels have been truly superb, and the same thing can be said about the Nile cruise ship where all the crew on board was really welcoming and made us pampered with great attention. In addition, no queues for tickets to the archaeological sites, no negotiations with taxi drivers and various means. Our tour operator has relieved us of any task and finally total relaxation. However, what made the difference were the two guides who followed us with meticulous attention and attention to detail. Ayman in Cairo and Emad in Luxor made the difference and our sincere thanks go to them. They made our trip really easy and peaceful in a territory where nothing is easy and even less peaceful. Thanks for everything, you are really good, we will meet again.
Silvia and the group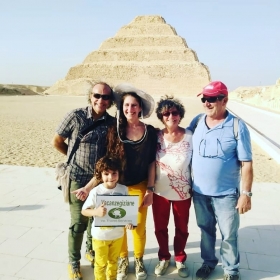 We chose Ve travel services after some internet researches and we were not disappointed. From the starting with Jasmine always helpful with any our requests, and in Egypt with Ayman who welcomed us in Cairo and explained the whole tour. The competence of the guides (Ashraf who accompanied us for all excursions in Cairo and Emad who guided us throughout the Nile cruise) was perfect! The kindness and availability of all staff combined with the marvelous beauty and Egypt's wealth made our trip unforgettable. Consigliatissimi !!! Thanks for everything!!!
Fabio and the family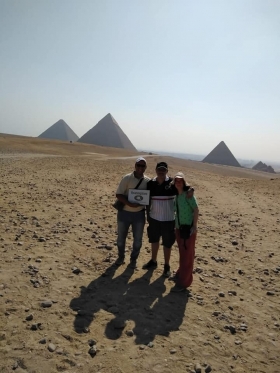 My partner and I went to Egypt this summer buying a personalized tour with Egyptian Holidays. It has practically become our honeymoon! Unforgettable experience and fabulous places ... We did a week of cruise on the Nile from Luxor to Aswan (splendid). three days by sea in Ain El Sokhna, a seaside destination loved by the Egyptians just two hours from Cairo and 4 days in Cairo with a package of excursions in the city. The guides are all prepared Egyptologists and speak Italian very well. The tour operator is really excellent and Jasmine is extraordinary in personalizing stages and times. We would leave again tomorrow and will certainly travel again with Egyptian holidays, choosing other itineraries in Egypt and the Middle East. Love at first sight :-)
Elena and Leo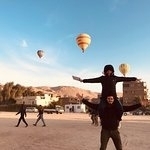 Our magnificent experience in Egypt begins in Cairo with Ayman who welcomes us to the airport on 31/12. On 1/1 he offers (without wanting anything in return) to accompany us to Cairo for a free day. Cairo, confusional city, not too clean, full of cars that ring, no highway code. Pedestrians must run dangerously from one side of the pedestrian walkway to the other to cross the street. The psychological terror that aired in us before the holiday was high because everyone told us that it was very dangerous as a city. Actually we, fortunately or by accident, in the short time we found ourselves very well and we shot it with ease. 2/01 we meet Doaa (called Dudu) our guide for the Plain of Giza and for the Egyptian Museum. Very good person on a human level. Even though ours was a few hours' acquaintance, she passed on to us all that she is. Also working speaking she was an excellent guide, very attentive, kind and caring. 3 / 01-5 / 01 with a flight we reach Aswan where we meet Hassan ready to recover us at the airport. With him we begin the cruise on the Nile. In addition to our itinerary, it offers us extra excursions: Abu Simbel and the hot air balloon ride. Always wake up very early (4-5 in the morning) to be able to see as much as possible. Guide very prepared, attentive, kind, with a good heart. He always leaves us time (although sometimes we didn't have much available) to take some pictures. With him we also see the Aswan dam, the Phiael temple, Kom Ombo, Edfu temple. While on the ship we pass through the dam / lock of Esna. We continue our journey to see the Luxor Temple with the path of the sphinxes, the hot air balloon ride, the Karnak Temple and the Valley of the Kings. Hassan turns out to be more of a friend than a guide for all the attention he gives us. I wanted to thank Jasmine who recommended us by an Egyptian friend made us an ad hoc holiday making us 1, save a lot compared to the agencies and quotes made in Italy, 2 followed us day by day despite the distance answering my thousand questions at any time of the day , night and week. I want to spend the last word on the taxi drivers and drivers who accompanied us on our trip. All very kind and they too have been a bit of guides explaining different things about the city and the life of the Egyptians.
Elena and the family