Home
» Traveler Testimonials
Traveler Testimonials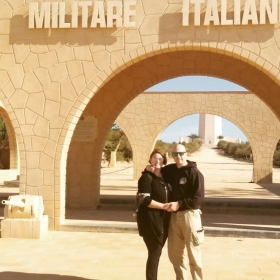 We left early and headed to El Alamein with a comfortable car. The destination is undoubtedly a point of historical interest therefore exciting and suggestive. You can visit the German war memorial and then get to our Italian. Really moving. The visit continues to the military museum and then ends at the Commonwealth cemetery. Ashraf our guide in Italian has proved very prepared and professional. With his kindness and availability he accompanied us on a beautiful day. Thanks also to the driver and Jasmine for organizing everything. Highly recommended. "YALLA YALLA"
Silvia and the family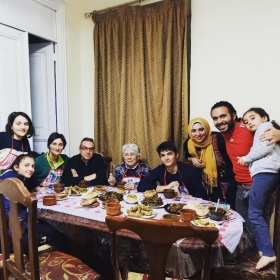 A week of full immersion in Egyptian society and history. From the Siwa oasis, to the Sahara and El-Alamein dunes, from the Egyptian Museum to Memphis and Giza, with moments of sharing with local families. Enthusiastic and interested kids (despite a cold and rainy January ..) Immensely grateful to Ashraf for her competence, attention and courtesy. We hope to return soon, inshallah.
Ilaria and the group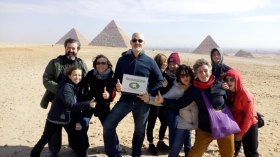 We spent a 8-day-vacation together with our personal guide Ayman. The experience was beautiful and our guide managed us in a very nice and professional way. We could get a "real" feeling of Egyptian society and its beauties!
"..Cairo and Nile cruise from Luxor to Aswan.." Fabiana and the group
Very positive experience. We visited fascinating places accompanied by two prepared guides who told us many interesting things. We had a great time. To recommend. A special note for Ashraf's great courtesy.
Fabiana and the group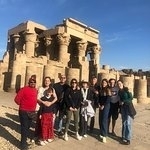 We chose Egypt for our honeymoon and for the first time we delegated everything to an agency. Great fear that things would not go as we would have expected and since it was Egypt, it was no small risk. Instead, the result was fantastic. Aside from the Mercure in Cairo which has an average and in any case more than acceptable standard, the other hotels have been truly superb, and the same thing can be said about the Nile cruise ship where all the crew on board was really welcoming and made us pampered with great attention. In addition, no queues for tickets to the archaeological sites, no negotiations with taxi drivers and various means. Our tour operator has relieved us of any task and finally total relaxation. However, what made the difference were the two guides who followed us with meticulous attention and attention to detail. Ayman in Cairo and Emad in Luxor made the difference and our sincere thanks go to them. They made our trip really easy and peaceful in a territory where nothing is easy and even less peaceful. Thanks for everything, you are really good, we will meet again.
Silvia and the group